Mark Twain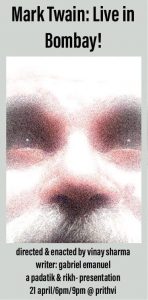 2018 welcomes the production of 2 new comedic plays written by Gabriel Emanuel and based upon the writings and travels of Mark Twain: "MARK TWAIN IN THE HOLY LAND" and "MARK TWAIN LIVE IN BOMBAY". Both plays are based upon the actual travels of the famous American humourist to Palestine in 1867 and Mumbai in 1896.
"MARK TWAIN LIVE IN BOMBAY' stars Vinay Sharma (Padatik Theatre, Calcutta)
opening at the Prithvi Theatre, April 21, 2018.
Conversation with Arts Reviewer Sudhir Raikar